The Walking Dead: Saints & Sinners – Chapter 2: Retribution uscirà nel 2022 e sembra promettere molto bene.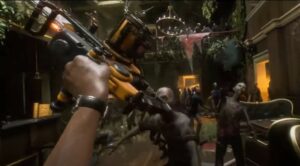 Retribution proseguirà la trama di The Walking Dead: Saints & Sinners facendo sentire ad i giocatori l'effetto che avranno avuto le loro azioni nel titolo precedente.
Caratterizzato da una trama originale, il giocatore avrà un'ampia libertà di scelta, inoltre rivestiremo nuovamente il ruolo del personaggio noto come il Turista, che deve combattere per continuare a sopravvivere alle rovine allagate di New Orleans, circondato da infiniti branchi di camminatori e dilaniato dalla guerra tra i restanti sopravvissuti.
Le decisioni dei giocatori peseranno molto in Retribution, poiché il Turista viene nuovamente gettato in una situazione tumultuosa in cui incontrerà sfide intense e una nuova potente minaccia.
Fateci sapere qua sotto nei commenti cosa ne pensate del nuovo The Walking Dead: Saints & Sinners – Chapter 2: Retribution
---
Iscrivetevi al nostro canale Telegram per restare sempre aggiornati sulle ultime novità e stare in compagni di appassionati come voi!
Link:
Gruppo VR-ITALIA
Supporta VR-Italia, visita il nostro store su Amazon, trovi tutti gli accessori necessari per godersi appieno la realtà virtuale e tante altre idee!
https://www.amazon.it/shop/vritalia
Acquista META QUEST 2 AL SEGUENTE LINK
Modello 128GB: https://amzn.to/3ukjkM3
Modello 256GB: https://amzn.to/3iE8paj
Acquista Reverb G2: https://amzn.to/38KW7JY
---